Homepage Sitemap Foot-Traffic Test Preferred Dealers
How to Measure Carpet in 4 Simple Steps
©2021 Alan Fletcher - Carpet Expert, Consumer Advocate
Learn how to measure your home for carpet YOURSELF in four simple steps. Avoid being overcharged for New Carpet, Pad and Installation.
To protect yourself from being overcharged for materials or labor, You need to find out approximately how much carpet you need to buy.
But remember, having a carpet professional measure your home for you is always the best way to go! Notice that I said "Carpet Professional", I did not say "Carpet Salesperson".
Learn more about Accurate In-Home Carpet Measuring
Measuring Carpet Yourself
Measuring for carpet can be quite difficult in some homes and very easy in other homes depending on the layout and size. After you do all four steps shown below and you successfully measure your home for carpet, you can take your hand-made diagrams to any carpet retailer or carpet seller and they can help you determine how much carpet you need from your diagram, based on the carpet you select. (Carpets with a pattern match will require more material to complete the job.) This will help you verify how much carpet you need and help prevent you from being overcharged for materials and labor.
Step One
Draw a simple diagram of your home. I did this drawing on my computer using a simple "paint" program, you have a paint program on your computer too, look in "accessories" in your program files. You can use a ruler and a pencil if you like, just make it as accurate and realistic as you can.
The drawing doesn't have to be perfect but the measurements need to be fairly accurate. Just a simple drawing with all the rooms shown is all you need. If you have a two story home, then do two drawings, one for upper, one for lower. Your drawing should look something like this: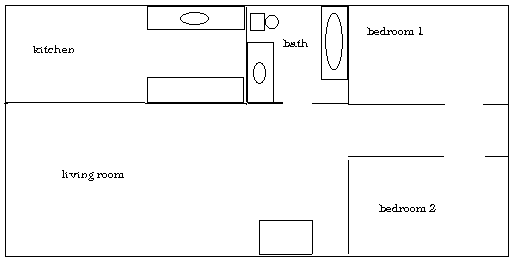 Step Two
Now you need to measure each room and write down the measurements on your diagram. Round up each measurement to the nearest 1/2 foot mark. if your room is 15 feet 3 inches long, round it up to 15' feet 6" inches or 15.5" (Use the decimal .5 instead of 6" inches)
This little bit of extra carpet length will help make sure you have enough for trimming and going through doorways and to help with seaming issues. You want to make sure you have enough material to finish the job but not have to pay for unnecessary waste.
If your room is 15 feet 8 inches long round the measurement up to 16' feet or 16.0
Always write down the length of the room first, then write down the width of the room to make all your measurements uniform. (example 15 long x 10.5 wide)
Q. How do I know which is length and which is width?
It doesn't matter, just choose a direction and measure each room the same way. In most cases the living room will be significantly longer in one direction and that will dictate which way to measure length and width of all other rooms.
Here is how your diagram should look after you measure. Notice the length and width arrows.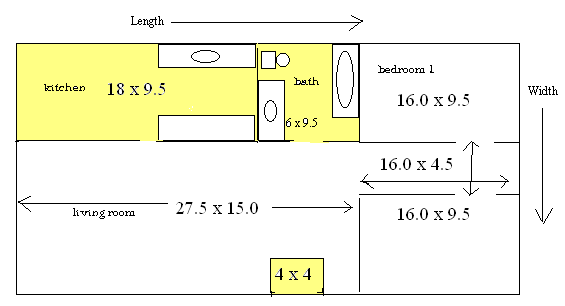 This is a typical ranch style home layout.
Notice that I have the vinyl flooring areas shown in yellow. The white areas will have carpet.
Step Three
Make a list of your room measurements and multiply the length by the width of each room. Then add them up to get a total square footage. It should look like this:
Living room 27.5 x 15.0 = 412.5
Hall 16.0 x 4.5 = 72.0
Bedroom 1 16.0 x 9.5 = 152.0
Bedroom 2 16.0 x 9.5 = 152.0
788.5 square feet
Step Four
Add 10% to the total. This makes allowances for seams and other extra carpet needed to complete the job.
788
+78
866 square feet
To get your total square yardage, divide the square footage by 9.
Example: 866 divided by 9 = 96.22 square yards.
That's it! This is a good estimate of the amount of carpet you need.
If your home is unusually large or has a difficult or confusing floor plan, it will be more difficult for you to measure it accurately and to strategically manage the best use of carpet leftovers from one area for use in another area to save the absolute most money possible.
In this case you must get some expert help. I suggest you get several estimates and consider paying a carpet installer to measure your home. This can be $50 to $100 but your savings could be many times that. Some installers will absorb the fee if you hire them to do the installation.
Learn how to hire a Carpet Installer
If you need to carpet your stairs check out my free Carpet Stair Yardage Chart and several other useful carpet forms and charts.
Measuring Carpet for Stairs:
Measuring for stairs can be very tricky. Some stairs are wrapped over one or both sides, some have to be upholstered which may require additional material, some are pie shaped and are very difficult to measure, some have landings that must be considered. I have included a stair yardage chart in my eBook to help you measure a simple flight of stairs.
Important Facts to Remember:
Carpet usually comes 12' feet wide, Other widths that may be available are 13'.6" and 15' feet. These are much less common and may or may not be a good choice for you depending on your room sizes. Only a professional can determine the best course of action that will be most cost effective for you.
There will always be some material waste if your rooms are less than 12 feet wide.

You must have seams if your rooms are wider than 12 feet. (unless you buy a wider carpet, not very common)

The nap of all carpet in connecting rooms must run in the same direction. The nap of every carpet lays down in one direction and stands up in the other direction. You can't roll the carpet out left to right in one room and roll it out right to left in a connecting room. If the rooms are connected in any way, like a connecting hallway, and you do not lay down the connecting carpets in the same direction, then the carpet seams will be very noticeable.
To calculate your total square footage for a room, just multiply your room width and length together.
Example 1:

Here is what a 10 x 10 room would add up to 13.33 yards: (Remember, carpet comes 12 feet wide)

That is 12' width x 10' length = 120 square feet divided by 9 = 13.33 yards.
Example 2:

A simple 15 x 20 room would add up to 33.33 yards.

That is 15 x 20 = 300 divided by 9 = 33.33 yards.

In this case, there would need to be a 3' ft. x 20' ft. seam along one wall in this size of a room because the carpet width is only 12 feet wide, but this extra material is already figured into the total yardage of 33.33 yards.
Remember, with this simple how-to measuring guide, you are just getting a basic estimate of your material needs, you will most likely need a few more or less yards than you figure here, so don't be surprised if you are quoted 5 to 10% more or less than you calculated yourself. It is always wise to get a professional to measure your home accurately before ordering carpet.
Questions most frequently asked: How to measure carpet, measuring carpet, carpet measured right, accurate carpet measurements, carpet measuring scams, how much carpet do I need?
This useful chart will give you a basic estimate of carpet durability.
Learn more about Accurately Measuring Your Home for Carpet
It's getting harder to find a reputable Carpet Dealer! I've spent countless hours creating my own special hand-picked list of over 400 locally-owned Carpet Dealers. I believe that every homeowner deserves to be treated fair and square! And that includes getting FREE Estimates, LOW Prices, HELPFUL Salespeople, HONEST Measuring and QUALIFIED Installation! See Who I Recommend near you!
Learn more: Carpet Q & A Carpet Cost Carpet Styles