Free Unbiased Carpet and Flooring Information
How To Find a Qualified Carpet Installer?
For most homeowners, finding a qualified independent carpet installer can be very challenging. Especially when you consider that some carpet installation jobs are way more difficult than others and require hiring a more experienced installer to get the job done right.
Carpet Installer Experience
It takes more than just time to become a great carpet installer. Most carpet installers have a certain area of expertise. Where have they amassed the bulk of their experience?
What grade of carpet do you typically install?
For example, if their main type of experience is from Installing high-quality carpet in custom homes, that's much more valuable experience because it requires much more attention to detail than does installing low cost apartment-grade carpet in rentals.
Installing carpet on a spiral staircase with spindles is much more difficult than installing a simple flight of stairs.
Of course everyone wants their carpet installed correctly, and hiring an installer with minimum of 5 years experience is where I would draw the line with a simple installation job.
However, if you select a high-quality carpet or if your installation job is more difficult, then you need to hire an installer with more specialized experience. I personally believe that it takes 10 years before a flooring installer can truly begin to master their trade, no matter where they have acquired their experience.
Hiring an Independent Carpet Installer?
I recommend using installers that are provided and paid by the carpet dealer where you purchased your new carpet. This eliminates most of the headaches and potential problems you may encounter if you hire an independent installer and pay them directly for their services.
As with any trade, some installers are just not worth hiring. In fact, the real good installers are the hardest to find. They have a busy schedule due to their great word-of-mouth reputation. These professionals may not need to advertise in order to keep busy, so the only way to find them may only be through someone who knows them personally or who has hired them in the past.
Ask your friends, relatives or co-workers who they would recommend. Even if an installer comes recommended, it does not mean the installer is qualified to install your carpet. You still want to ask for references and verify their License, Bond and Insurance if required.
Locating a Qualified Carpet Installer? Who to call
Local retail carpet stores generally will not allow you to hire their "in-house" installers if you don't buy from them, however some carpet dealers have a list of local flooring installers they will provide to you if you ask.
These are dealers that cater to do-it-yourself (DIY) homeowners and have many rolls of carpet in-stock and ready to load into your pickup truck.
These carpet resellers usually have tell-tale names that identify them as a cash & carry retailer like "Bob's Carpet Outlet", "Wholesale Carpets Direct" or "Discount Carpets USA".
Most larger cities have Floor Covering Distributors that provide flooring installation tools and supplies to local carpet installers. You can call these companies and ask them what carpet installers they know of and who they might recommend. Some will have a list of names they can email to you. Most have a cork board with installers names and business cards posted. You can find these businesses by searching the internet under the headings of Carpet Sundries, Carpet Layer Supplies, Flooring Supply, Floor Covering Tools, etc.
Some cities have a Carpet Layer's Union that you could call. Union members are paid "by the hour" instead of "by the square yard". Still, they may be able to give you some names and numbers of local carpet layers you can call.
Hiring a Certified Carpet installer is a good way to go and there is a website that you can visit that have lists of Certified installers. Click here and enter your zip code to Locate a CFI Certified Flooring Installer near you. You can also call the CFI main office for a recommendation at (816) 231-4646
Carpet Installation Prices - Carpet Installation Cost
What does it cost to have carpet installed? There are a lot of variables that homeowners need to consider before the question of carpet installation cost can be accurately answered. There are many different fees and charges you may encounter all depending on your home and the type of carpet you select.
Installing Carpet On Stairs
If you have a flight of stairs that need to be carpeted you can expect a minimum charge of $75 to $150 for a basic flight of stairs. That is in addition the the price per square yard to install the carpet. Most installers charge "by the stair" and if you have spindles for a handrail the cost can be as much as $15 per stair.
Looped Berber carpets are always more costly to install due to the added difficulty in handling, cutting and seaming. If your stairs require the carpet to be wrapped over one or both sides it will cost more for the upholstery work. Every staircase is different and the installation fee will be determined according to the time and effort it takes to do the job.
Tear out and haul away of the old carpet and padding
This is another charge you can encounter. Some installers charge as much as $5 per yard to take up your old carpet and padding. There may also be a dumping or recycling fee that you must pay in addition to that. Homeowners can save money if they take up all the old carpet and padding themselves prior to the carpet installers arriving to install the new carpet. It's a more difficult task than most folks think. If you decide to take up your old carpet and padding, it's important that the floor be clear of all debris, vacuumed or swept out and completely ready to go before the installers arrive.
Carpet Installation - Extra Fees and Charges
Other carpet installation prices, charges and fees that can add up in a hurry is for floor preparation.

If you have squeaky floors and want the installers to screw down the sub-floor there will be added costs.

If the old tack-less strips are worn out, rusty or damaged they will need to be replaced.

If you need new metal transitions there may be added costs depending on what type of transitions you require and the amount of lineal feet you need.
The Cost to Install Carpet can be figured either by square yard or by square foot, and will often depend on the type of carpet, the grade of carpet, the area you live in, the experience level of the installer and the size of your job. Most installers have a minimum fee of at least $100 to show up, so if you have just one small room to do you can't calculate the cost using the amount of material you need.
On the other hand, if you have a huge job you might be able to negotiate a better deal. Installers often like doing bigger jobs because they can get it done faster than doing a lot of smaller jobs and driving all about town. How to Measure for Carpet in 4 Simple Steps
How much should you pay for installation?
In the southern states like Florida, Alabama, Texas and Mississippi the price carpet installers charge is considerably less than in the northern states. Prices per square yard range from $2.50 to $6.50 nationwide with higher prices in the northeastern states and along the west coast.
Looped Berber carpet styles are much more difficult to install than other carpet styles and most installers charge an additional $1 to $3 more per square yard. Patterned carpets also require more time and effort and installers will take that into consideration when figuring their cost to do the job.
Protecting Yourself
When hiring an independent flooring installer, it's important that you call to verify the installer's references and check to make sure the carpet installer you hire is properly licensed with your state's contractor regulating agency, if a license is required. Check to make sure he has a Surety Bond if required by your state and also check to make sure he has current Business Liability Insurance.
See if your state has licensing requirements for carpet installers.
All State Contractor License Requirements & Regulations - Carpet & Flooring
________________________________
10 Questions
For Independent Carpet Installers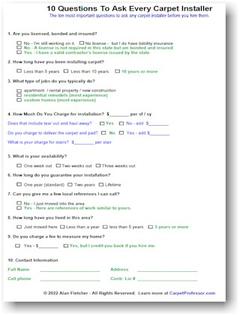 Looking to hire an independent carpet installer? Use my free 10 Question Checklist to make sure you ask every potential carpet installer all the right questions - Before You Hire!
Click on image to print or view.
Installation is not an area where you should try to cut corners. This is a must-ask 10 question form to help guide any homeowner looking to hire a Qualified Carpet Installer.
________________________________________________
More Information: